Monday, September 29, 2008
New Generation....
I can't feel my toes. (At least I couldn't a month ago when I wrote this!!)
The reason for this is a combination of some kick-a$$ shoes that I wore to the Skid Row/Firehouse show on Friday night (Aug 15th) and the fact that a giant security guard wearing some serious cowboy boots stepped on me twice in his rush to stop a fight in the crowd.
But my toes were a small price to pay for the night that Christina & I had.
Christina runs the "For Davee G Fans" site on MySpace and does a fabulous job "representing the home team" as Davee Gara, the man himself, told her in an email. DG is the most personable, sweet rock star that I have ever had the pleasure of meeting. He's the drummer for Skid Row, the latest and greatest in a long line of bashers. I hope he stays with the group forever - he's an amazing player.
But! The point of my story is this: We got to the Grizzly Rose Friday amid a crazy rain storm that still hadn't abated as I wrote this. Davee wandered into the back parking lot to smoke and Christina hollered at him. He came right over and talked with her, texting the tour manager right there to put her and her "plus one" (that would be ME!) on the guest list. He also said that if the place didn't allow cameras to talk to Chip (the aforementioned tour manager) and he would hook us up with photo passes.
Throughout the afternoon, DG came back to the car 3 times just to chat with Christina, introducing us to his drum tech Richie, who was really cool!
The show started at 8 with a local band whom I completely blocked out while watching the men's volleyball tourney on the big screen TV. Christina & I were about 3 rows back for Firehouse who still sound amazing! While waiting for Firehouse to come out, DG and Richie came out, saw us and Davee ran over to make sure we got in all right and if we were doing okay!
By the time Firehouse was done we had made our way to the front row. There was a space of about 3 feet seperating the stage and the cowboy rope that held us back - the perfect place to stand! There was a couple next to Christina who were in their 40's, I'd say; the quintessential rock couple. He was tall with long curly black hair and she was skinny and wasted with crimped blonde hair. During Firehouse, she and her man were all over each other. Then she drunkly turned and planted a monster kiss on this 60 year old dude behind her. When she was done with him, she moved in on the young girl next to her. If that wasn't fun enough to watch, before Skid Row got out, she went down on her man in front of everyone! Crazy, I tell you...
Anyway!
Skid Row finally hit the stage, opening with Makin' A Mess, one of my favorites oldies to sing along with. They still put on a great show; very energetic and raw. Johnny Solinger's voice in practically unmatchable! Davee made eye contact and pointed out Christina a few times during the show and afterwards when everyone was clamoring for a drumstick from him, he looked at Christina and showed her the stick. She nodded enthusiastically and held out her hands. He tried his best from his position on the stage to throw it to her but it went too low and bounced off her fingertips, causing a frenzy of bodies stretching over the rope to get it. Now DG threw that at MY friend and I wasn't about to let anyone else get their grubby mitts on it. I leaned over farther than I ever thought possible and snagged it away from everyone's greedy fingers. My uterus was sore for about an hour after that but she got what was hers so it was worth it!
Here's how close we were: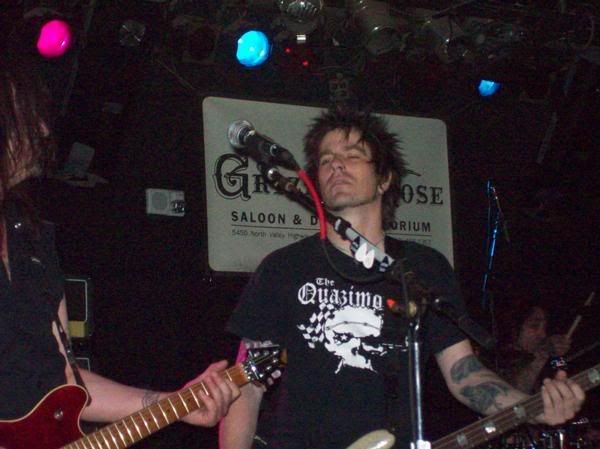 We went out back after the show where it was still raining. I quickly took off the evil shoes of toe-pinching death and slipped into my comfy tan flats. By this point, I didn't care that tan and black didn't match. All I cared about was getting the feeling back in my toes. At the back door they had metal barriers set up and a handful of us waited behind those to see the boys. Davee came out first and headed straight for Christina, wrapping her in a huge hug and asking if she got the drumstick. "I tried to angle it but it was too low. I'm sorry, baby," he laughed. He posed for a picture with her the ran back inside. He came out 3 more times that night and every time it was a beeline for Christina first. He was amazing!
Christina got her picture with DG & Rachel Bolan & Scotti Hill while I got mine with Scotti, Snake and Brett Pirozzi, Kreep's lead singer and Snake's guitar tech. Brett was so cool - he came around the barriers to say hi to Christina & I and give us hugs. He's a giant teddy bear of a man! Scotti was super cool, making sure he made his way back to me when our first picture attempt was thwarted by the batteries dying. He hugged me tight, smushed his head against mine and then afterwards when I thanked him he grabbed my hands and squeezed while he smiled. SO sweet!
Christina & her man, Davee G!!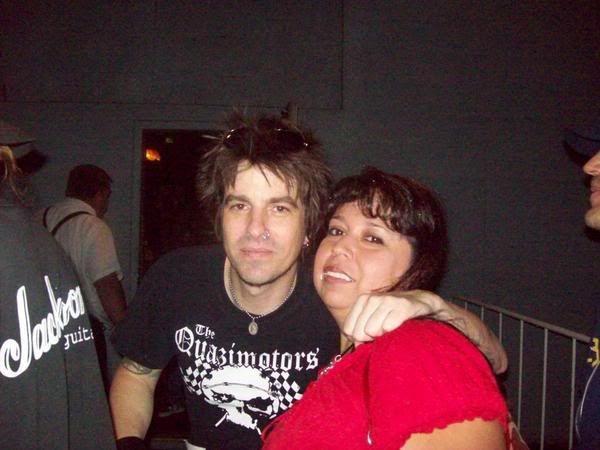 Rachel Bolan & Christina
Christina with my man Scotti....
Me & Snake Sabo - aww!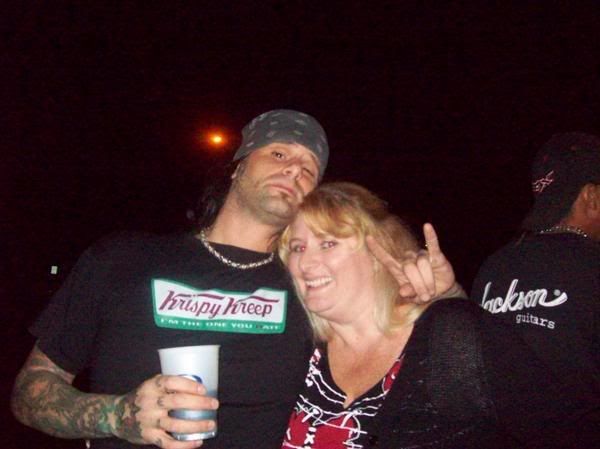 The always cool Brett Pirozzi of Kreep & me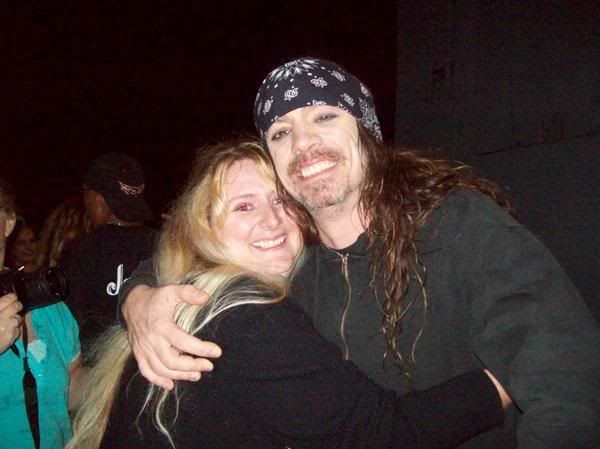 My favorite picture ever - me & Scotti Fucking Hill!!
One more note - while we were waiting for the guys to come out, one of their roadies sidled up to me and whispered, "The party's at 50th & I-25." "Okay," I replied and he nodded and walked away. Nothing else was said about it by anyone and he didn't tell anyone else. We weren't sure quite what to make of that invite so we, being tired giddy girls, simply went home.
Yeah. It was FUN! :D
Labels: concert, Pictures, skid row
|