Friday, July 25, 2008
June Books and Movies
20. Feather In The Wind - Madeline Baker
I hadn't read one of her books in maybe a decade and then one day I happened to see the title and read the back and hey!! Whaddya know, I'd never read this one and it had a time travel theme which will ALWAYS suck me into a book so....no matter how cheesy it was, it was still good.
21. The Picture of Dorian Gray - Oscar Wilde
Online book...still haven't completed it due to the fact that the internet was yet another victim of the new supervisor's regime.  But what I read I really liked - well written and creepy.  I plan on buying an actualy copy to finish it.
22. The Street of Five Moons - Elizabeth Peters
Ahh, Elizabeth Peters. One of my absolute favorite authors.  Vicki Peters mysteries are always fun and this was no exception.  
23. Death Walked In - Carolyn Hart
I love the Death On Demand series and this one was just as good as the rest. A quick-paced fun mystery that I pretty much had figured out from the beginning. Those are the best kind! :D
24. Other People's Love Letters - Bill Shapiro
 This was a cool book that Collin picked up for me in Vegas - it's a collection of 150 love letters ranging from the sweet to the sad and everything in between. The best part was at the end it gave me some closure on some of the letters - did these people get together, get married, divorced...it was awesome!  BOTM.
25. A Lifetime of Secrets - Frank Warren
 So this was a cool book....this is like the 3rd one of these where people send in anonymous postcards and tell secrets that they can't tell anyone else.  It's like being a voyeur into other people's lives and it's totally interesting!
 Here's
some examples....
26. Odd Hours - Dean Koontz
 The latest in Koontz's Odd Thomas series.  I love Odd but this book left a bit to be desired.  For the first half of the book I had no clue what was happening then all of a sudden it became clear and just like that it was solved and over.  It was weird.  Not my favorite book by him.
27.  Goodnight Nobody - Jennifer Weiner
From the woman who brought us In Her Shoes comes this quirky little mystery novel.  I enjoyed it - the heroine was different....she was normal.  Kind of.  But Weiner's great with dialogue and that's always a plus for me!!
...and now we move on to flicks...
74. Fever Pitch
 I borrowed this from Christina and it was cute.  Not cute enough that I would watch it again but I liked the ending.  Jimmy Fallon is an odd choice for a romantic lead in my book...but Drew Barrymore is always a good addition to any cast.
75.  Young Frankenstein
 The kids had never seen this classic so we set them down to watch it.  They loved it.  And why wouldn't they?
76. The Fricso Kid
 While watching YF I ascertained that Collin had never seen this movie so he stopped by Entertainmart the next day and picked it up.  You know what?  Turns out that it didn't really stand the test of time.  I didn't even finish watching it.  Everything that made me laugh as a kid I merely chuckled at.  But Jordyn enjoyed it.
77.  The Bank Job
 Saw this at the $1 theatre.  This was good but I wish Jason Statham had had more of a chance to kick some ass.   That's why I go see him in a movie.  :D  But seriously, this was interesting and based on a true story.  Definitely worth checking out!
78.  Dan In Real Life
 I love Steve Carrel and I love Dane Cook and I love Dianne Weist but this movie rated a mere "Not bad.  Kinda cute" in my book.  It moved a little slow and all the funny parts were shown in the preview.
79.  Jim Gaffigan - Beyond The Pale
 Collin sat me down one day and had me watch this comedy routine.  I promptly fell asleep but only because I was dead tired.  I heard most of his act in my dreams!  But when I woke up, he replayed it for me and this guy was really funny!!  It's a "Watch it now" option on Netflix if you're set up for that.
80.  Imaginationland  Ahh
, South Park.  I love that show.  I bought this little gem and laughed my head off.  If it wasn't for Cartman (who killed me by dressing as the pope!), Butters would so be my fave character!!
81.  Kung Fu Panda
 Ska-doosh.  MOTM   I don't think there was a time where I wasn't smiling, chuckling or laughing while watching this movie.  It was awesome.  I loved all the characters, especially the bad guy.  It was just a big ball of fun!
TV9. Supernatural Season 1
 Oh my.  If you like spooky, hot guys and hotter cars, then WATCH THIS SHOW!!!!
TV10. South Park Season 6
 Don't ask me how or why we started with 6.  We just did.
|
Thursday, July 10, 2008
Vegas Pt 2
Here we are at the Rio and the Penn & Teller Theater. This was what I was most excited about seeing while we were here.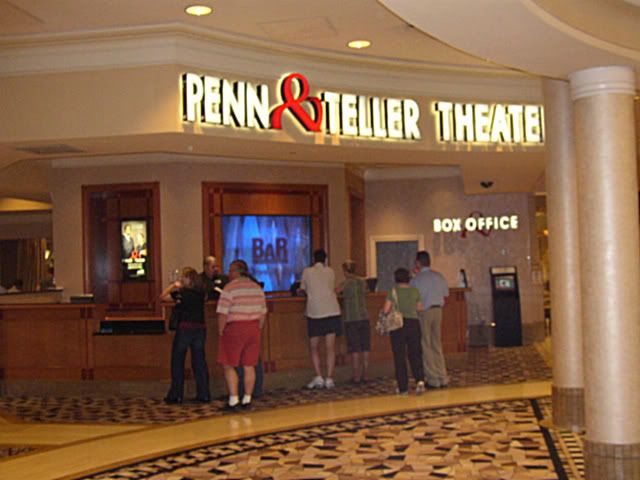 So the show was awesome, of course. We were in the 7th row and it was just so cool to see Penn & Teller up close doing their act. If you ever go see them, make sure you go early for the Mike Jones Jazz Duo during the seating - you can't miss them!! Very cool and a nice surprise. After the show we got to meet Teller. He was very patient with the tons of people asking for autographs and pictures.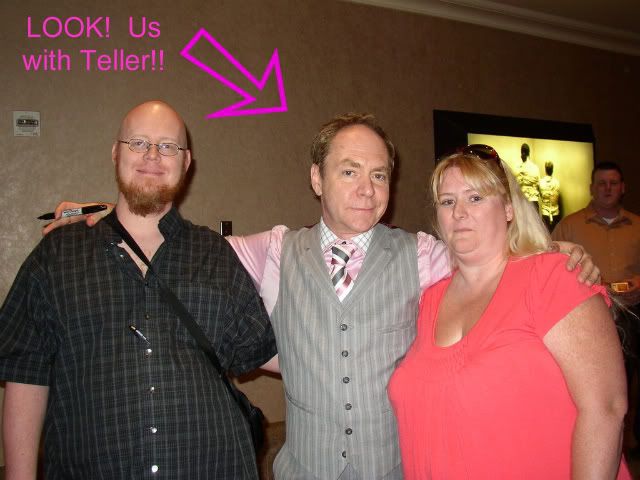 I was all bummed cuz I really had wanted to meet Penn Jillette, He's just so stinking cool. But as we turned the corner, THERE HE WAS!! I jumped in for a pic, too excited to wait to find someone to take a pic of both Collin & I. Oops.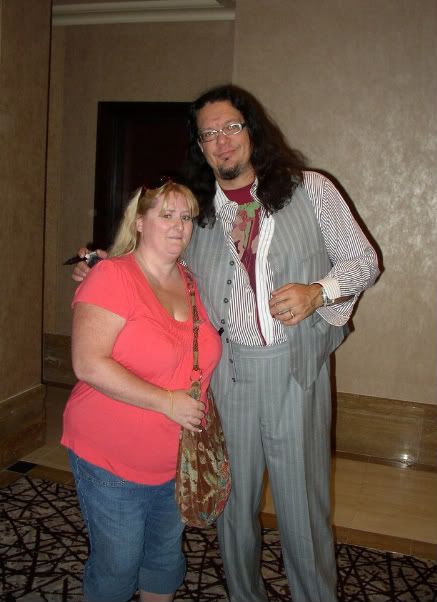 He's so tall....I felt so tiny next to him!!
We found this poster and were hoping to buy it but it wasn't for sale anywhere. We had to be content with this picture: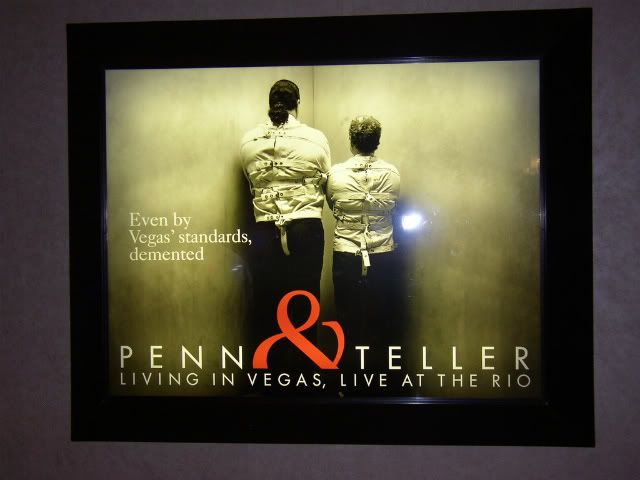 And back to The Paris. Midnight is a perfect picture taking time in Vegas.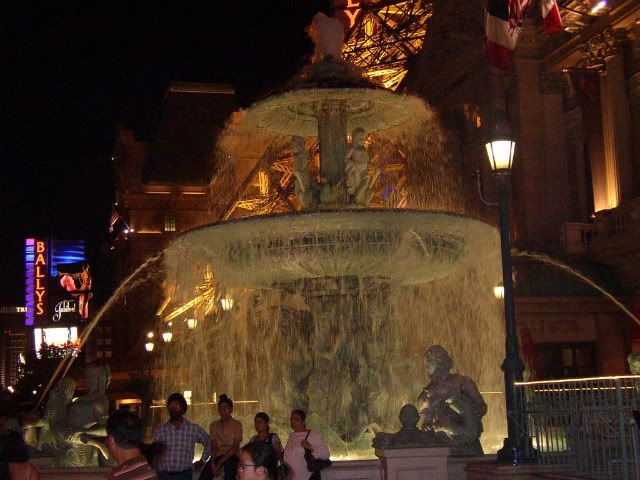 The fountain in front of the Paris...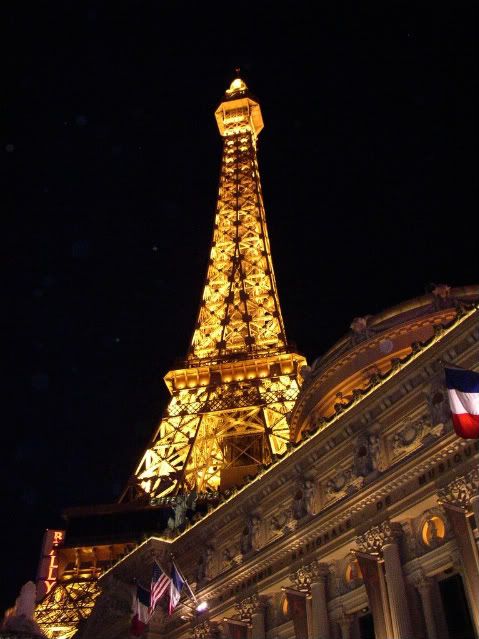 ...the beautiful Eiffel Tower. Collin did an awesome job with this shot...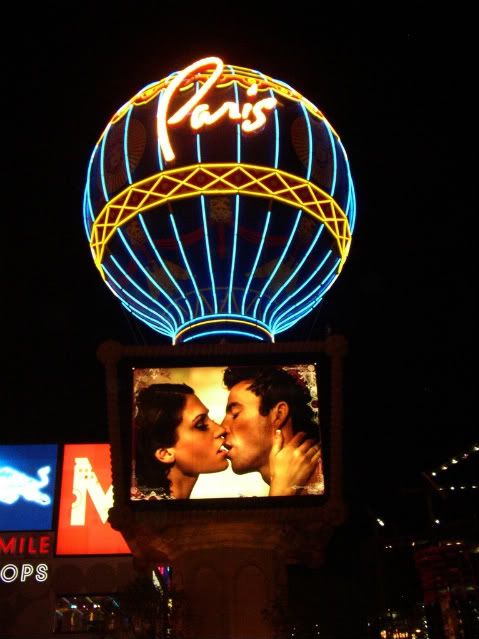 ...and the cool balloon all lit up!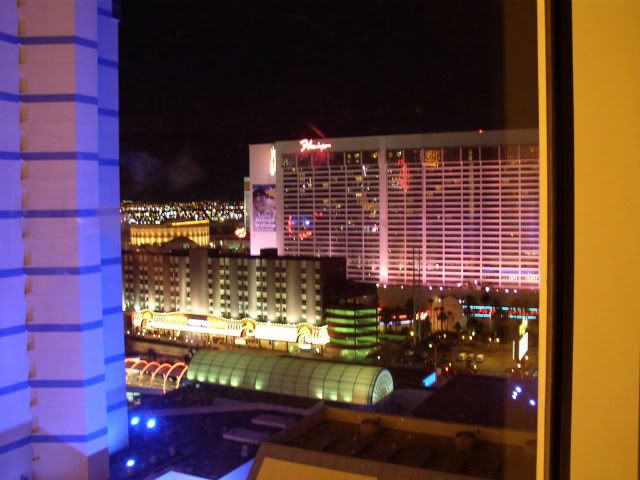 And the nighttime view fromour 16th floor window!
Part 3 coming soon where I take you on a tour of our hotel room!! YAY!!
Labels: Pictures, vacation, Vegas
|
Friday, July 04, 2008
Vegas Baby!! PT. 1
Okey dokey, here's the more in depth account of our Vegas Vacation! We drove through Utah which is so boring there's actually signs that say "Fatigued Drivers Pull Off At NExt Exit - NO FATIGUED DRIVERS!!" Well, if your state wasn't so boring, maybe we wouldn't get tired! There were some pretty parts though and this was the first cool scenery we saw: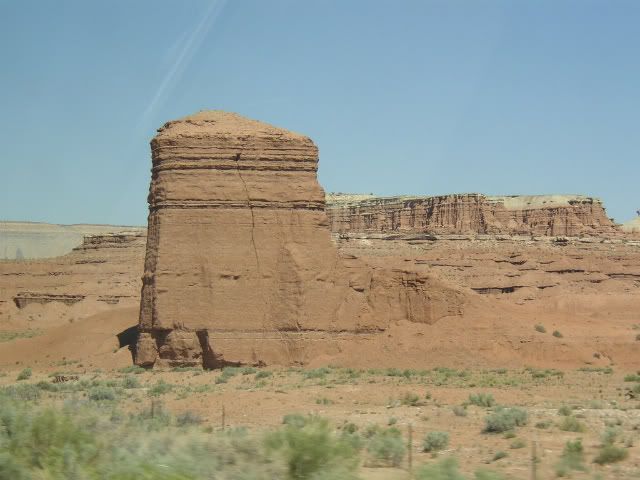 Utah is not only boring but perverted. They're the Beehive State so all their road signs have beehives on them but they made them look like boobs: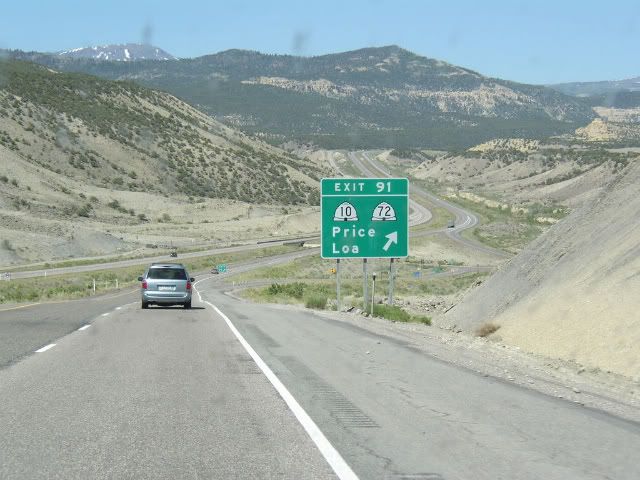 Ahh, finally, after 11 hours on the road, there's the first sign of Sin City: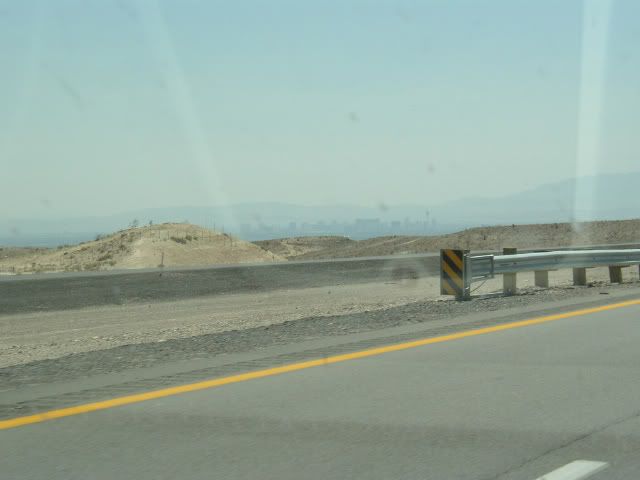 And then we're greeted with the craziest billboard ever: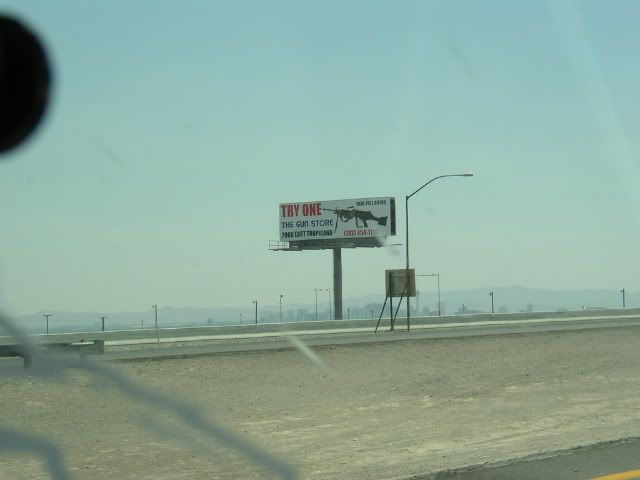 Seriously, how did they get away with that??
We made it to The Paris and had a room on the 16th floor. We had a decent view - in this shot you can see The Bellagio between the buildings - through that hole we could see the dancing fountains.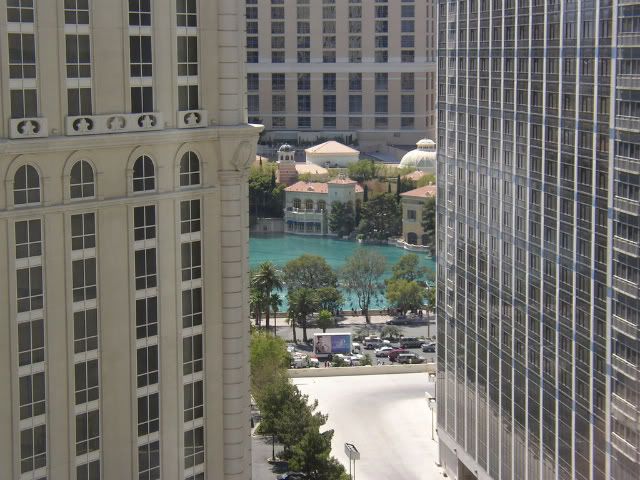 And there's the other side with the Colosseum from Caesars.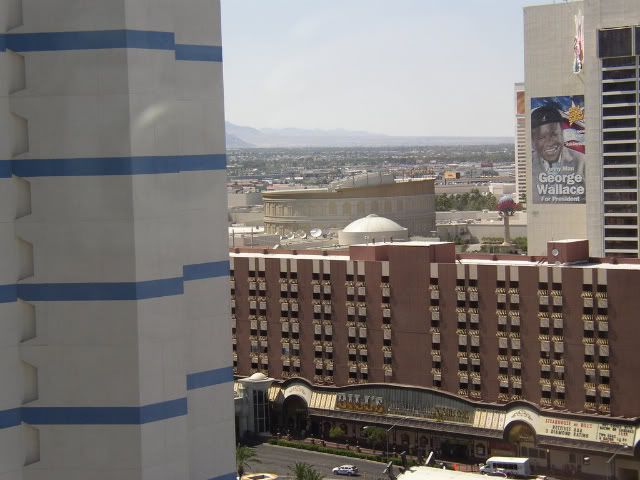 Here's my artsy attempt - Collin in the mirror in our room: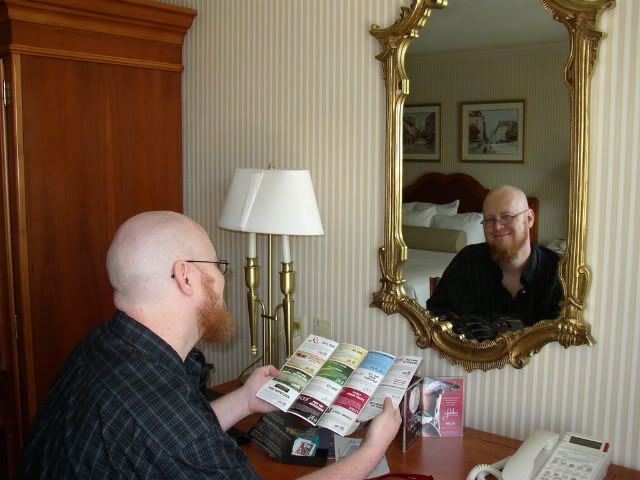 Oh yeah - see the phone? Stupid expensive phone - Thursday when we got back there was a message from my Mom asking us to call her back. So I did. Dad was on the phone so it went directly to the message dealy and I called back 4 times only to hear the bells of the message. I hung up every time and every time we were charged $10 a call!!! GACK!!
The first night we went to the Rio to see Penn & Teller - Collin snapped a couple pics on our way out: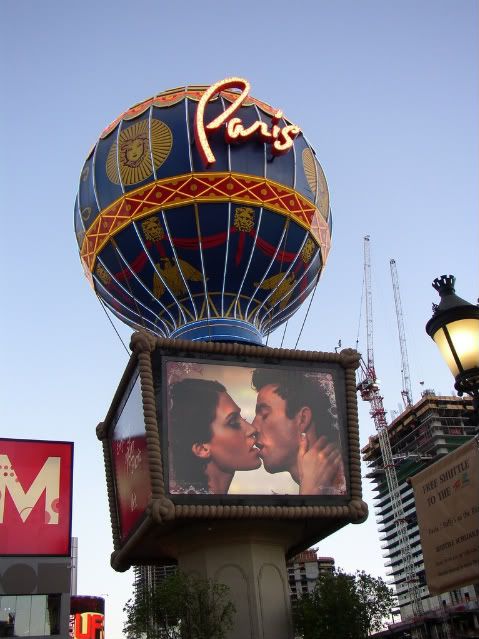 The balloon which is so very very cool....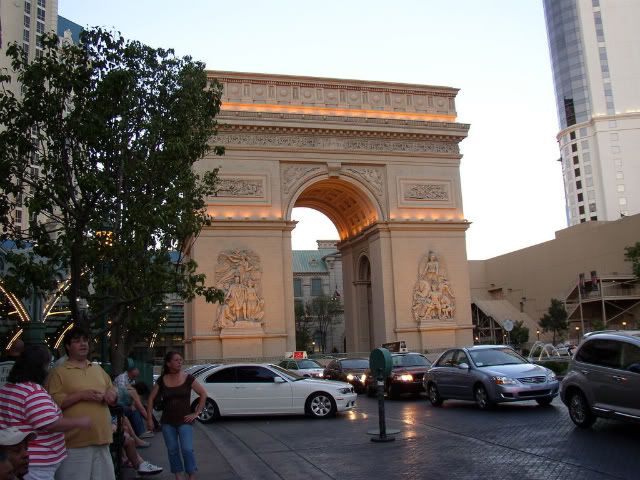 ....and the even cooler Arc de Triumphe.
On to Penn & Teller which will be Part 2! I hope you all had a fabulous & safe 4th of July!!!
Labels: Pictures, vacation, Vegas
|