Tuesday, October 23, 2007
Hey Jude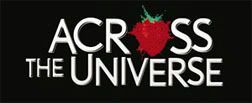 I can't wait for my end-of-month roundup to talk about this movie. Last week I saw Across The Universe and I do believe it is now my new favorite movie. It was amazing - visually, musically, story-wise - it was simply brilliant.
Director Julie Taymor used Beatles tunes to tell the story of Jude & Lucy and it was masterfully done. With the exception of Evan Rachel Wood (and the 3 cameos which I won't ruin the suprise of) I wasn't familiar with any of the actors but ended up loving them all. They all sing the songs in the movie and they're all great.
Dana Fuchs
, who plays Sadie, is my new musical hero. She's unbelievable...she sounds like Janis Joplin reincarnated. I highly recommend following the link to her site and watching her live video of Helter Skelter - she'll blow you away!
And GO SEE THIS MOVIE!!! Seriously.
Labels: movies
|
<< Home