Monday, October 08, 2007
You can be blase about some things, Rose, but not about Titanic!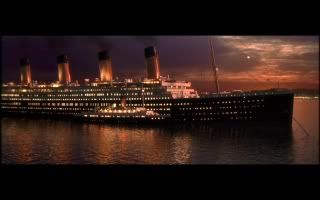 Saturday, Collin, Derek, Heather and I went to Denver to see the Museum of Nature & Science's
exhibit of the Titanic
artifacts. I was so excited to go and to see who I would "be." What they do as you're entering the exhibit is present you with a "boarding pass" of an actual passenger. At the end, you get to see if you lived or died. My friend Christina & her sister went up a couple months ago and got to be Molly Brown and Madeline Astor. Just by looking at the names, they knew they survived.
My name was
Mrs. Edith Peacock
and I was traveling with my two small children, Treatseall and Alfred. My husband had arrived in America earlier but I had become ill and was unable to travel with him, hence our passage on Titanic. We were 3rd class passengers, steerage. I knew I was doomed.
Heather's passenger, also a 3rd class traveler, was a Swedish woman,
Alma Palsson
, and she had 4 children. They were going to America to join her husband in Chicago.
Collin was a 2nd class gentleman,
Edgar Andrew
, an 18 year old from Buenos Aires who was traveling to attend his brother's wedding in New Jersey.
Derek was a 1st class gentleman, a renowned tennis player going to attend Harvard. A
Richard Williams II
. Because of this little fact, Derek spoke in a "Harvard accent" most of the time.
The tour of the artifacts was cool...they had things like money (including a bill printed in Colorado Springs! Sadly, we weren't allowed to take pictures.), bottles, glasses, china, etc. They had a large piece of the hull and a piece of the ship that we were allowed to touch. That was exciting for me! I've touched the Titanic!!!
I was hoping for more artifacts, pictures and stories, but what I saw was great. At the end of the tour was a list of all passengers separated into the deceased and the survivors. Derek was the only one out of us four who lived. He said, "Of course I survived. I had a tee time I simply could not miss." If you follow the link about his guy, you'll find some interesting facts about Mr. Williams, including how he was threatened by a steward for "damaging White Star Line property" while trying to save a trapped passenger. This gave rise to the scene in the movie where Rose & Jack are reprimanded after breaking through a door.

All in all it was money well spent and I would go again. And I was very proud of myself for not breaking into movie lines at every turn!

Labels: Titanic
|
<< Home